Nature routes in Juupajoki
Juupajoki offers various ways to enjoy the beautiful Finnish nature.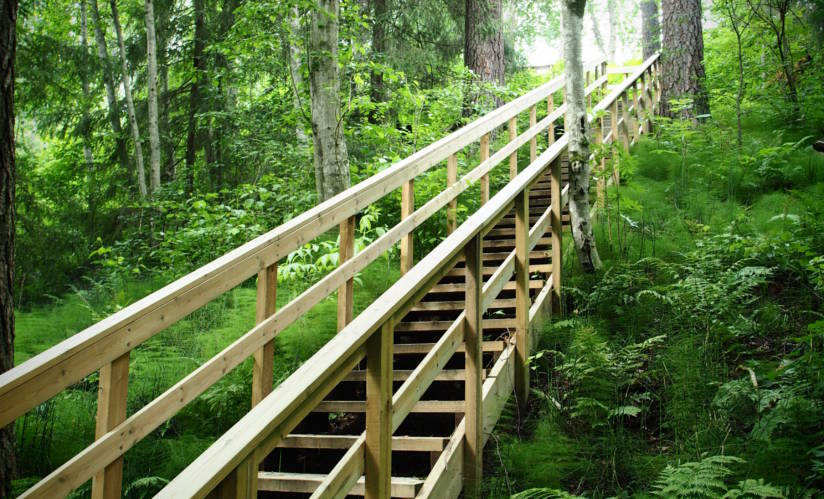 The Juupajoki Gorge Nature Reserve
The Juupajoki Gorge is a ravine where the municipality of Juupajoki maintains three colour marked nature routes.
Yellow route is about 400 meters long
Red, more challenging trail is about 900 meters long
Blue route is about 2 kilometres long
You can access the routes from parking address Koskitie 45, Korkeakoski.
During high season, nearby parking spaces can be found at Korkeakoski market place (Koskitie 55), Juupajoki train station (Poikkikatu 6) and Koskiportti (Koskitie 50).
Please follow the rules of nature reserve area:
Protect nature. Please, do not deviate from the marked paths.
The Nature Conservation Act prohibits taking or damaging of plants and plant parts on this area.
Open fires, camping and littering are prohibited.
Keep your pet on leash.
Walk calmly and carefully on steep slopes and in places of slippery and narrow paths.
With young children, special care should be taken, for example near water and on steep slopes.
Please note, in the Juupajoki gorge is not wheelchair or stroller accessible. Due to the natural terrain, the area has steep, in some places very slippery and narrow paths. We do not recommend more challenging trails for the disabled. We recommend visitors to use sturdy mountain shoes. The Gorge area is not maintained during winter time.
However, a new wheelchair and stroller accessible observation deck and lean-to/campfire place is now open as part of Gorge area. With a valid parking card for people with disabilities parking is allowed at nearby church's yard Kirkkotie 15, 35500 Korkeakoski. 
Conoeing route from Kopsamo to Pitkäjärvi
The canoeing route starting from Kopsamo descending to Längelmävesi in Pitkäjärvi passes through the most beautiful cultural and rural landscapes both the Juupajoki and Orivesi areas.

The route consists of calm river sections and small mostly narrow lake sections. There are only two sections of rapids on the route, past which the canoe has to be carried or swum. The rapids bypasses are short. The route is suitable for paddlers of all levels and the route has good transport connections. The length of the route is about 19 kilometers.
The starting point of the canoeing route is located at the northern end of Lake Kopsamojärvi in Juupajoki. There is guidance to the starting point immediately after Kopsamo beach. There is a private road leading to the starting point, which is signposted from Sahrajärentie.
The equipment at the departure point includes a route map, a toilet and a departure platform. Please note that the departure point is not located on the beach, but next to it, marked with a separate sign.

Routemap(siirryt toiseen palveluun)